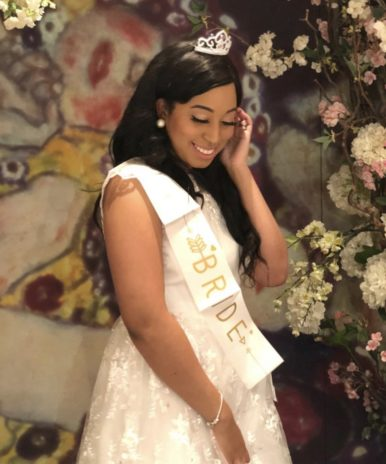 Sharon Oyakhilome's Breathtakingly Beautiful Bridal Shower
Abraham Cuch, 5 years ago
1
3 min

read
1651
The gospel starlet and daughter of Pastor Chris, Carrissa Sharon Oyakhilome recently celebrated her upcoming wedding with a heavenly gorgeous bridal shower.
The two love birds who officially got engaged last year have huge plans for the event. The sensational singer and her Ghanaian heartthrob, Phillip Frimpong have been overwhelmed by the amount of love and blessings received. Much anticipation is felt around the approaching event and the celebrations have already begun!
A Gold and White Themed Paradise.
If the bridal shower looked this good, then just imagine how the wedding will be! The white and gold themed celebration was filled with loving family and friends who poured in with countless wishes, blessings and love. The couple were prayed for by the man of God himself, automatically guaranteeing them a life time of spiritual wealth and happiness.
In an Instagram post, the woman of the hour shared an adorable gif of her bouncing a white balloon, with the comment "Had the loveliest bridal shower"Pastor Chris himself can be pictured smiling with his beautiful daughter. The man of God wore a classy white suit and golden tie.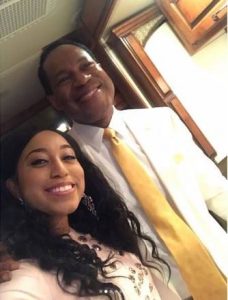 Beautiful and lavish decorations adorned the joyous celebrations. The crowds and the food were all top class. Everybody looked like royalty. Especially of course, the woman at the center of it all, Sharon herself was a sight to behold.
The 25-year-old, who is currently one of the worlds biggest gospel singers looked like an absolute princess.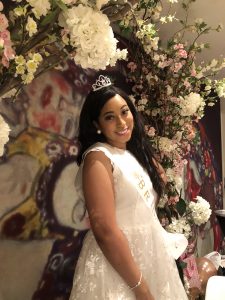 Sharon Oyakhilome's Breathtakingly Beautiful Bridal ShoweThe starlet donned a classically elegant white dress with a high neckline and delicately embroidered floral seam. This princess was clearly the best dressed in all of Nigeria and paired her stunningly elegant dress with a cute pair of pink fluffy heels, adding a subtle playful touch. This super stylish star knows how to put on a show! The lucky lady posted this gorgeous picture on her Instagram.
Mr Frimpong himself is no stranger to style.
The UK based, and Dutch born business man has made quite a name for himself in the African wax print industry and also has an amazing sense of fashion. Here he can be seen wearing a super dapper beige knee-length overcoat. The savvy stud has been pictured many times wearing great outfits and looks more like a model than a businessman!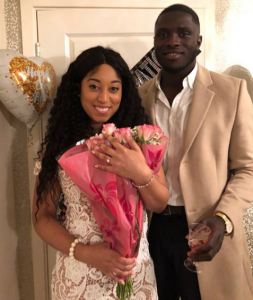 The big day is coming!
The soon to be Mrs Frimpong Oyakhilome has been helping her followers out with meaningful relationship advice. In a question posted on twitter, she was asked to advise young brides on how to prepare for the big day. Carissa advises young brides "to trust and obey God" and "pay attention" to your partner.
No doubt we are all paying attention and waiting for this momentous day. The event will take place on the 6th of October 2018. "Save the Date" as Sharon has said
Related posts
You Might Also Be Interested In...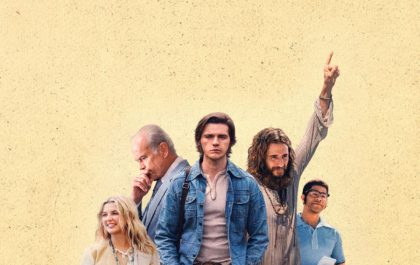 The most successful film from Lionsgate since 2019: Jesus Revolution passes $40 million in revenue
Thanks to another solid showing, "Jesus Revolution" passed $40 million at the box office last week and is now the highest-grossing movie from Lionsgate since 2019. On Monday, March 13th, the film grossed $615,000, which is an impressive number for a weeknight. It represented a…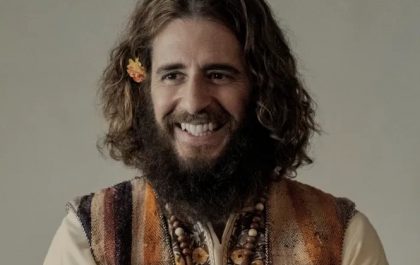 Jonathan Roumie: "Culture is reactivating to welcome God back"
Jonathan Roumie, who plays Jesus on the hit television series "The Chosen," wears flower power patterns in the new film, "Jesus Revolution," starring Kelsey Grammer. This film chronicles the Jesus Movement that swept Southern California in the early 1970s. The movie tells the story of…