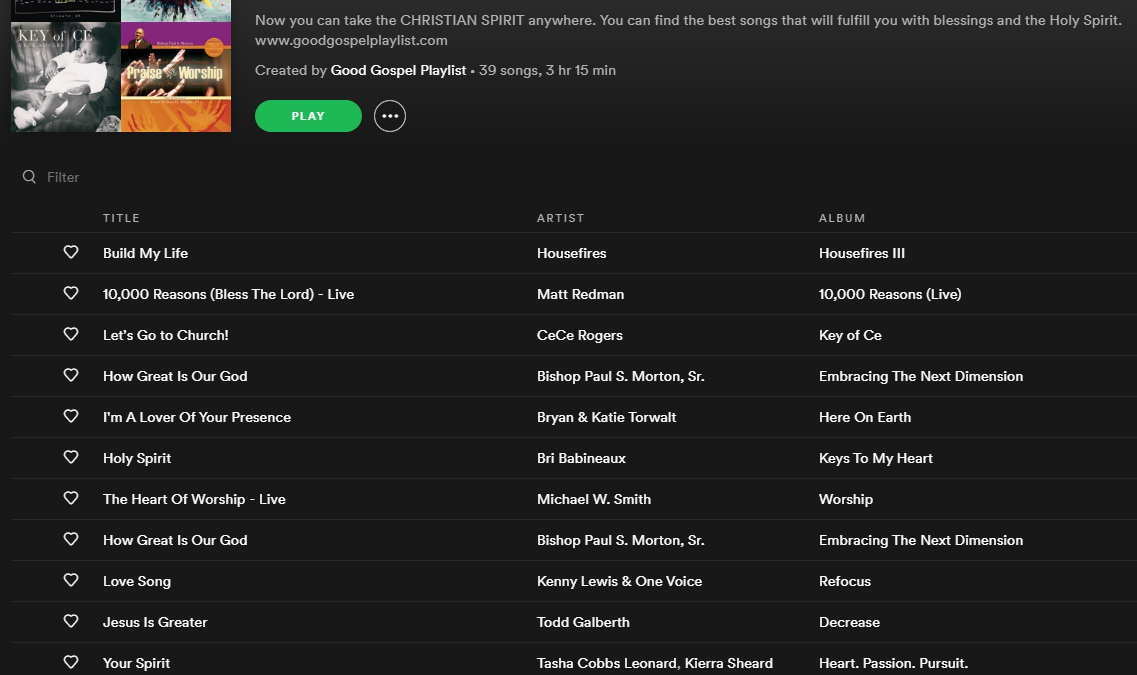 Dive into our "Christian Spirit" playlist
Abraham Cuch, 3 years ago
0
3 min

read
3495
For the last couple of weeks, we, at Good Gospel Playlist, have been introducing you to our three Spotify playlists.
Each playlist has a theme, and the first one we took a closer look at was Modern Gospel. Later, we got familiar with Gospel Classics, and now it is time to dive into our third and last playlist, Christian Spirit.
This playlist consists of 39 songs that all are full of the Christian spirit. It gives you more than three hours of the best worships and blessings that you can take with you anywhere.
Now, let us take a closer look at some of the tunes on the playlist.
"Way Maker" is undoubtedly the biggest hit from Nigerian gospel singer Sinach's repertoire. The song was released in 2015 and grew popular across Africa and YouTube, where it currently has more than 150 million views.
The hit has given Sinach lots of success, most recently by making Sinach reach number one on Billboard's Christian Songwriters chart for seven weeks in a row.
"Way Maker" has been covered by multiple artists, and Sinach benefits from each cover, as she is the writer of the song.
Matt Redman – Blessed Be Your Name
Though not being released as a single, "Blessed Be Your Name" by British Matt Redman had no problem making its way to the charts.
The song appeared on his 2002 album, "Where Angels Fear to Tread" and was also featured on a compilation album in 2005.
Furthermore, "Blessed Be Your Name" was covered by the Christian band Tree63 in 2003, and they succeeded in peaking at number two on Billboard's US Christian Songs chart. The song even managed to stay on the chart for 68 weeks.
In 2017, Cory Asbury released what would end up becoming a huge success. His song "Reckless Love" rose to fame when it was played during a worship service at Bethel Church in California, which was watched by 14 million people.
"When I used the phrase, 'the reckless love of God,' when we say it, we are not saying that God Himself is reckless, He is not crazy. We are, however, saying that the way He loves, is in many regards, quite so. But what I mean is this: He is utterly unconcerned with the consequences of His own actions with regard to His own safety, comfort and well-being. … He does not wonder what He will gain or lose by putting Himself on the line, He simply puts Himself out there on the off-chance that you and I might look back at Him and give Him that love in return," Cory Asbury said about the song in 2017.
"Reckless Love" became his first number one single on Billboard's US Hot Christian Songs chart, and Billboard even named it the biggest Christian song of the year. It was also labeled the fourth biggest Christian song of the 2010s.
You can listen to "Way Maker," "Blessed Be Your Name," "Reckless Love" and many more here.
Related posts
You Might Also Be Interested In...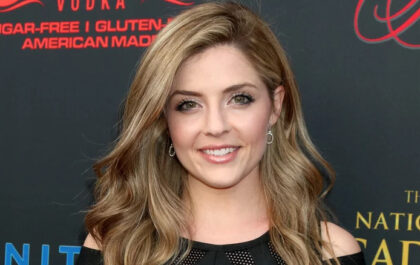 Actress Jen Lilley Explains That You Are Never Beyond Redemption
Jen Lilley bids farewell to "Days of Our Lives" after a ten-year tenure on the series. Reflecting on her role, she expressed how portraying the character imparted profound lessons on empathy and grace. Renowned for Hallmark and family movies, she also portrayed Theresa Donovan for…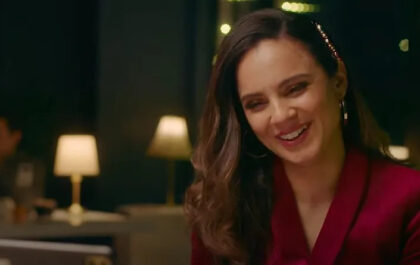 "Divine Influencer" is About Embracing Christian Values in This Current Era
Two faith-based entertainment figures collaborate in a new film "Divine Influencer." The film infuses a biblical angle into the modern concept of an "influencer." Lara Silva, acclaimed for "The Chosen," portrays Olivia, a self-absorbed influencer, in the faith-based movie "Divine Influencer." Premiered on Pure Flix,…