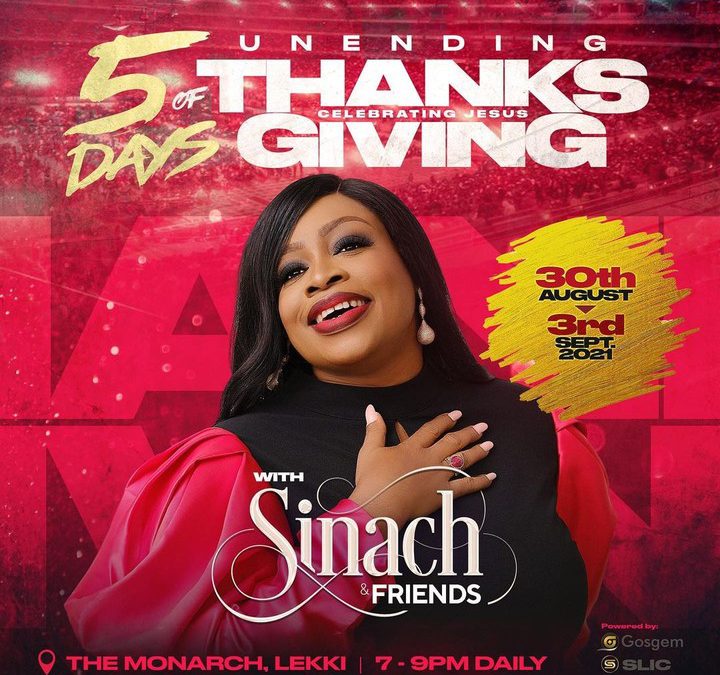 Sinach presents 5 Days of Unending Thanksgiving
Abraham Cuch, 1 year ago
0
2 min

read
814
Sinach recently took to Twitter to announce that she is doing a 5-day show at The Monarch in Lekki, Nigeria.
The concerts, which have been named 5 Days of Unending Thanksgiving, will be held free of charge every day from August 30th to September 3rd from 7 PM GMT+1 to 9 PM GMT+1. Registrations for the shows take place on Sinach's website.
On her Twitter account, Sinach writes that fans can expect "five days of music, dance, worship and praise."
Sinach making history
Two weeks ago, Sinach won her first-ever BMI Christian Award for Song of the Year with her 2015 hit "Way Maker."
Sinach celebrated the victory on Twitter, where she thanked her fans.
"BMI SONG OF THE YEAR! So grateful to everyone that raised the anthem," she wrote.
In her acceptance speech, she started off by showing her prizes.
"Thank you so much, BMI, for this. This reads, 'BMI most performed Christian song of the year – Way Maker – Sinach, 2020.' And this one reads, '2021 award winner,' and this is what came with it," Sinach said as she showed the certificate confirming her win.
"I want to especially thank BMI again, and I want to thank my Lord, Jesus Christ. You are the owner of my life, my Lord and savior. I want to thank you for your love and grace and favor. This could never have been possible without you. Thank you, Lord," she added.
"This is a win for us, Africa"
Sinach also thanked her family, her team and her LoveWorld family.
"I want to thank my family – my husband especially and our little girl. Thank you for your support, your love. I appreciate you always. And I want to thank my music team everywhere, and wherever you are, you know yourselves. Thank you so much for working so hard to make this happen," she said and continued:
"I want to thank my LoveWorld family. Thank you so much. This is a win for us, Africa. This is a win for everyone who has always done something, and the Lord, you do not know how far He is going to take you, but God is faithful. Thank you so much, thank you so much, this is exciting. Yes!"
The BMI Christian Awards celebrates Christian songwriters and publishers whose music has made a difference over the past year.
"Your messages of hope and strength have encouraged and empowered listeners around the world during a time when it was more needed than ever, and we are so grateful for your unparalleled gift that adds joy and inspiration to our lives. You make us proud to recognize your outstanding success with this special tribute," the BMI Christian Awards writes on its website.
Related posts
You Might Also Be Interested In...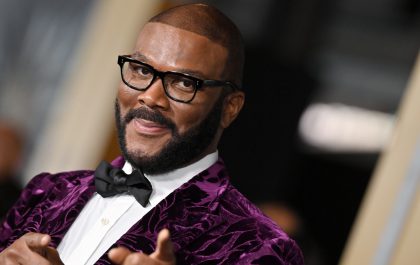 Tyler Perry: "I don't know where I would be if it weren't for my faith in God"
Three years ago, filmmaker Tyler Perry shared his faith in God with Steve Harvey on the Steve TV Show, as well as the impact that his mother had on him. Tyler Perry was born Emmitt Perry Jr. in New Orleans before changing his name to…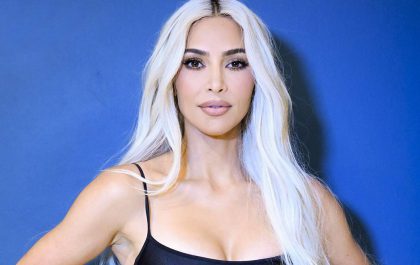 Kim Kardashian: "I pray every night with my kids"
Praying is probably not what most people associate Kim Kardashian with. However, the reality star recently revealed that she prays every day. On the podcast Angie Martinez IRL, she said that she prays with her four children, North, Saint, Chicago and Psalm, who are all…